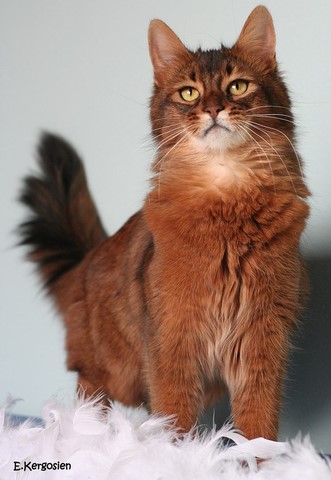 Somali has won our hearts with its look of Fox-squirrel.
At this physics that attracted our eyes, combines a sweet and generous character that makes a wonderful family cat of Somali.

Our Somalis and our other companions share our daily family life.
Curious at every moment, they like watching us and evolve in the House in the sandstone of our activities... So we're never alone to Cook (and this isn't our girls who will tell you the opposite, they have a passion for good food, especially if it's for them), there are often one or two who sneak in the bathroom with us, we have computer fans, addicted to television...

In addition to all of our House, our cats enjoy an outdoor space secure in the garden to long NAPs in the Sun, and games in the grass, they observe the birds and leaves that fly away with the wind.
The Somali cat charmer, will amaze you with its games, his curiosity, his tenderness, his intelligence, joie de vivre, his affectuosite to the human being and his extreme sociability...
To learn more about this fabulous little cat:
the Somali

Learn more about us:

The passion of the cats, I almost always, but my husband taught me to love them even more. Our meeting with Keila, matriarch of our House has strengthened this love for cats, then the encounter with the cats of breed, first with grooming and soon our first meeting with the Somali... A revelation...

Want to raise kittens appeared as obvious and especially to be able to offer to others the joy of living alongside a Somali.

Our cats live in contact with Angie, an Akita Inu, we were attracted by the nature of this dog near that of cats! And recently a little bitch Spitz Deeandra.

All kittens born at home are the affix of the magic of the unicorns, which represents our affection and passion for horses and magic.

I hope you carry over your visit to my site in my world of feline magic.
I am passionate about photography, what a pleasure to have on a daily basis as cooperative models, I hope that during your visit you will enjoy these photos.